08 mrt

Hypotheekrente 10 jaar nu onder 2% grens!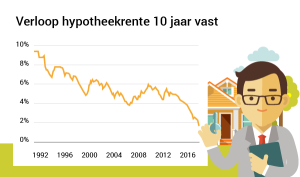 Voor het eerst zijn enkele geldverstrekkers met een rentevaste periode van tien jaar een tarief onder de 2% gaan aanbieden! Even ter vergelijking; in februari 2013 was de laagste rente voor deze termijn nog 4,20%. En in februari 2000 zelfs 6,10%. Een huis kopen, een hypotheek afsluiten of een hypotheek oversluiten: kansen te over.
Wij verwachten dat er meer aanbieders gaan volgen.
Wil je weten wat dit voor jouw huidige hypotheek kan betekenen of wat voor andere mogelijkheden er zijn? Neem dan gerust contact met ons op!